We make unusual accessories that are designed to fit seamlessly into every wardrobe.
Luxe, head-turning pieces that complement any look, making them perfect for a global lifestyle full of travel & living.
We are a luxury fashion label, that designs statement, women's accessories for women on the go.
From the sun-kissed shores of tropical island getaways, to winter-white ski resorts, and everywhere in between, our accessories are must-have pieces, to carry & wear to any destination, all year round! From handbags to jewellery & more, we create designs that effortlessly transition from day to night, seeing you through a range of unique looks, that you'd put together over the course of the day.
Founded in Singapore in 2018 by Kānchan Gāitondé, we started with a line of handbags & have since expanded our offerings to include jewellery & hair accessories.
Each collection is highly inspired, thoughtfully designed, and meticulously crafted through artisanal processes, to make timeless pieces that are highly functional & remarkably versatile.
Every one of our unusual pieces promises to...

ADD VALUE TO YOUR WARDROBE,
through statement-making style, that never grows old or outdated.
BE THE GO-TO ACCESSORY THAT YOU CAN RELY ON,
through every event & occasion, season after season, for years to come...
Very much like the one true friend who's always there for you.
ALWAYS STAY EFFORTLESSLY VERSATILE,
deftly adapting to an ever-changing palette of personal styles, phases of life, as well as global trends.
ELEVATE YOUR OUTFIT,
no matter what look you desire, whether you're looking to play up the basics, or amplify the elegance.
SPARK INTERESTING CONVERSATIONS
about the piece you are wearing.
FILL YOU WITH A SENSE OF WONDERMENT,
about human ingenuity & skill, through inspired design & artisanal techniques.
COMPLEMENT A GLOBAL LIFESTYLE,
seeing you through endless years of fine living, full of travel & leisure around the world.
Ninety nine percent inspiration
We are

design led & product focused. Rather than force-fitting ideas & concepts into multi-piece collections, we create & evaluate every design for its own merit. In doing so, we measure the value that it would offer you, in terms of functionality, versatility & of course, its appeal. W
e design pieces to look cohesive with your wardrobe, rather than have them just blend in nicely with our collection display.
We find enormous delight in discovery. The exhilaration of discovering something novel is truly unmatched! This very emotion forms the cornerstone of our design process. We take pleasure in creating refreshingly original pieces that are free from the confines of short-lived trends. We design products that stay fresh & relevant long after trends have lived out their brief lifecycles.
'What's new ?' is a question we keep

asking ourselves.
We have this constant, burning passion to innovate. It is at the heart of what we do. Whether we're putting our own unique spin on the design of a quintessential wardrobe staple, or are sampling unconventional crafting techniques & production processes, it is the quest for innovation that truly drives us to do what we do.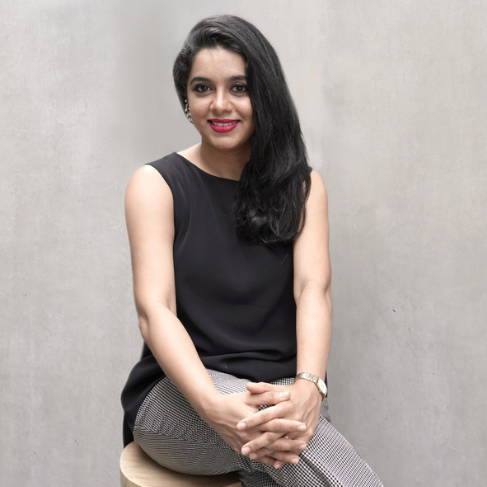 KANYEKA, the brand was conceived out of Kanchan's passion for design & craft.
Although an apparel designer by qualification, she's always found accessory & product design to be her true calling.
In the years leading up to the birth of the brand, she cut her teeth in accessory design while creating fine jewellery pieces, commissioned by friends & family.
Kanchan was born and raised in India and has lived in Hong Kong and now Singapore, together for over fifteen years.
Along the way, she's amassed a home full of beautiful possessions, a treasure trove of rich experiences, a hoard of happy memories and, a mind brimming with ideas.
Having been inspired by visual stories of travel, history & culture, art & crafts, and her passion for home decor, interiors and lifestyle, she translates her inspiration into refreshingly original designs...
Stunning pieces that are sure to far outlive the fleeting life-spans of ever changing fashions and trends.

The name KANYEKA, which is a portmanteau of Kānchan's complete maiden name, means 'virgin' in Sanskrit and embodies all that is graceful and feminine.
Learn about the core values that govern every design & business decision we make.